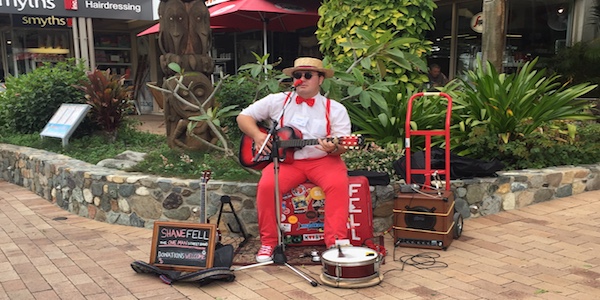 National Busking Championships
What could be a better location to participate in the Australian National Busking Championship [ANBC] than Noosa ?  
Building on the successful launch of the regional championship in Noosa, 2021 promises to be a bigger all inclusive event with a wide range of prizes totalling more than $5,000.
All profits will be distributed to the local disability charity 121Care.
The ANBC is a celebration of all styles of music because the Buskers who perform bring a huge variety of music to the event.
Pre-registered Buskers are assigned special locations (Busking Hot Spots) at various times along Gympie Terrace, Noosaville.
Roaming judges and people's choice busker votes will be used to select a number of Buskers to perform at the finals concert held at the stage in Lions Park Noosaville the following morning, where the judges and audience make their final decision on the winners.